Travel Safe with our travel kit
After the long periodof lockdown, a lot of people have now started travelling. However, travel isstill such a risk when you must use a new bath product. When you have sensitiveskin or are extremely conscious about the product ingredients, it is best tocarry your own products. Another major hassle is to keep small flight-compatible bottles and pouches for each of your product, ones that do not leakand ruin your bag and clothes.
Omorfee's core valuesconstitute of beauty with health. An exotic, luxurious experience of whatnature has to offer us. We have curated a mix of the most important travelskincare products required to keep you safe and glowing all day. The best partabout this? It is a unisex pack that allows men and women alike to take care oftheir skin while on- the- go.
So, what exactly doesthis travel kit contain?
It comprises 5essentials that we recommend our customers never travel without.
Body Wash: The Omorfee body wash is enriched with VitaminE, Almond Oil and Patchouli Essential oil which helps hydrate the skin and keepinfections at bay. The travel kit has a beautiful 30gm dispenser bottle thatallows you to immerse yourself in a luxury bath without having to compromise onthe quality.


Facial Moisturizer: The Omorfee's Facial Moisturizers helps youstrike a perfect balance between hydration and matte look. Enriched with ArganOil and Willow Bark, this moisturizer is suited for all skin types. Thepackaging allows you to dispense just the right amount each time for theflawless beautiful skin all day.
Body Moisturizer: We ensure a full body protection whiletraveling and have hence included our unique body moisturizer. It is infusedwith Shea butter and Wheat Germ oil and helps hydrate the skin deeply. Itabsorbs well and has a lovely fragrance all day. The body moisturizer isperfect for all weather and skin conditions and is extremely gentle and light.
Hair Wash: One of the main products in our travel kit isthe hair wash. The hair wash is gentle and has a fresh citrusy fragrance.Infused with Lemon oil and Aloe vera, it not only cleans the hair and scalpdeeply but gives the instant moisturization that your hair needs for a perfecthair day.
Face Toner: A special treat in our travel kits is rosewater. Made of Organic Bulgarian Roses, this rose water will help your facestay fresh and hydrated all day throughout your trip. While travelling, makesure you carry this in your bag all day and just spritz a couple sprays on yourface before stepping out for the most photogenic skin texture.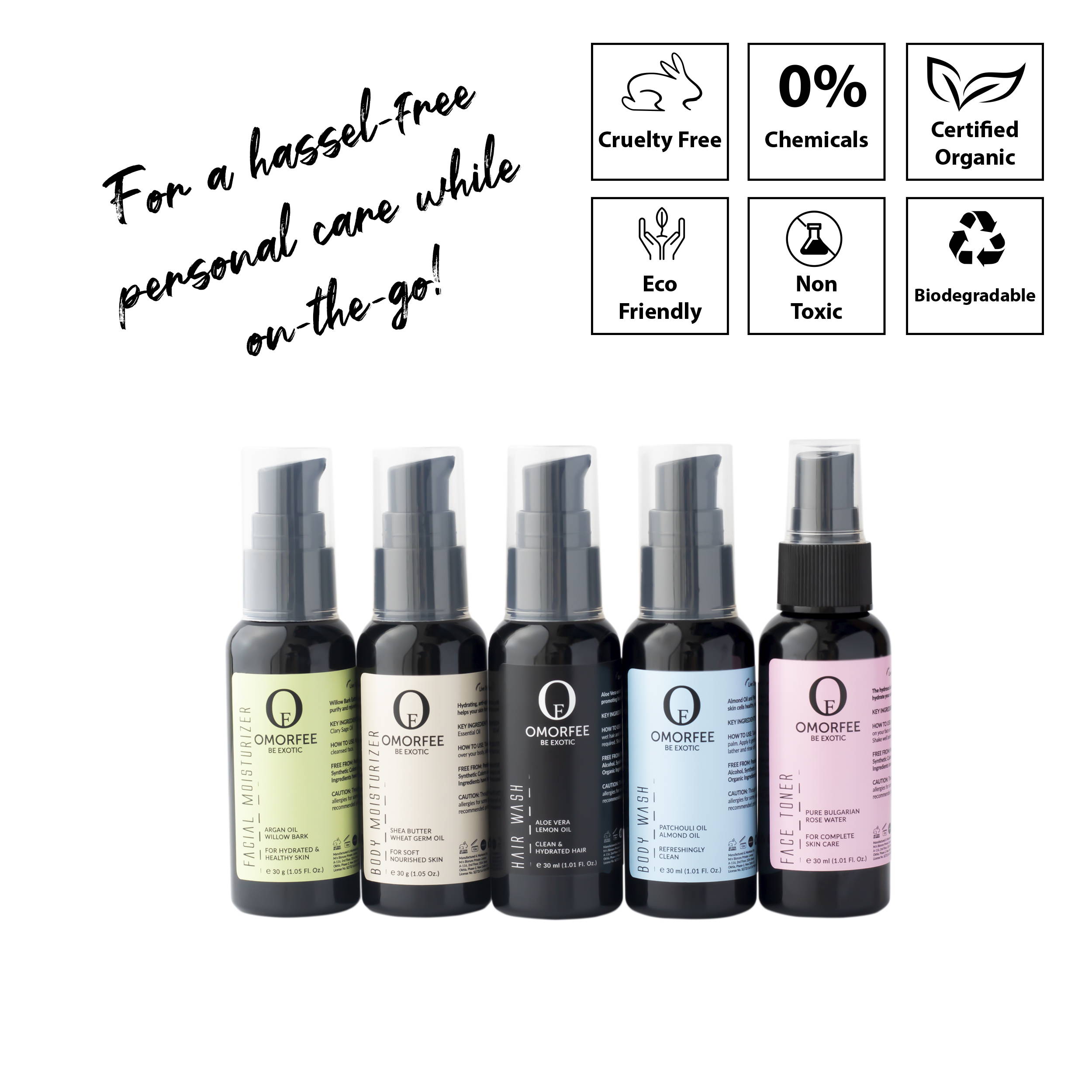 We hope this travelkit has instigated you to start travelling while ensuring you have Omorfee'sTravel Kit in your bag for a luxurious on- the- go bath and hygiene experience.
Click on the link hereto buy the kit today!