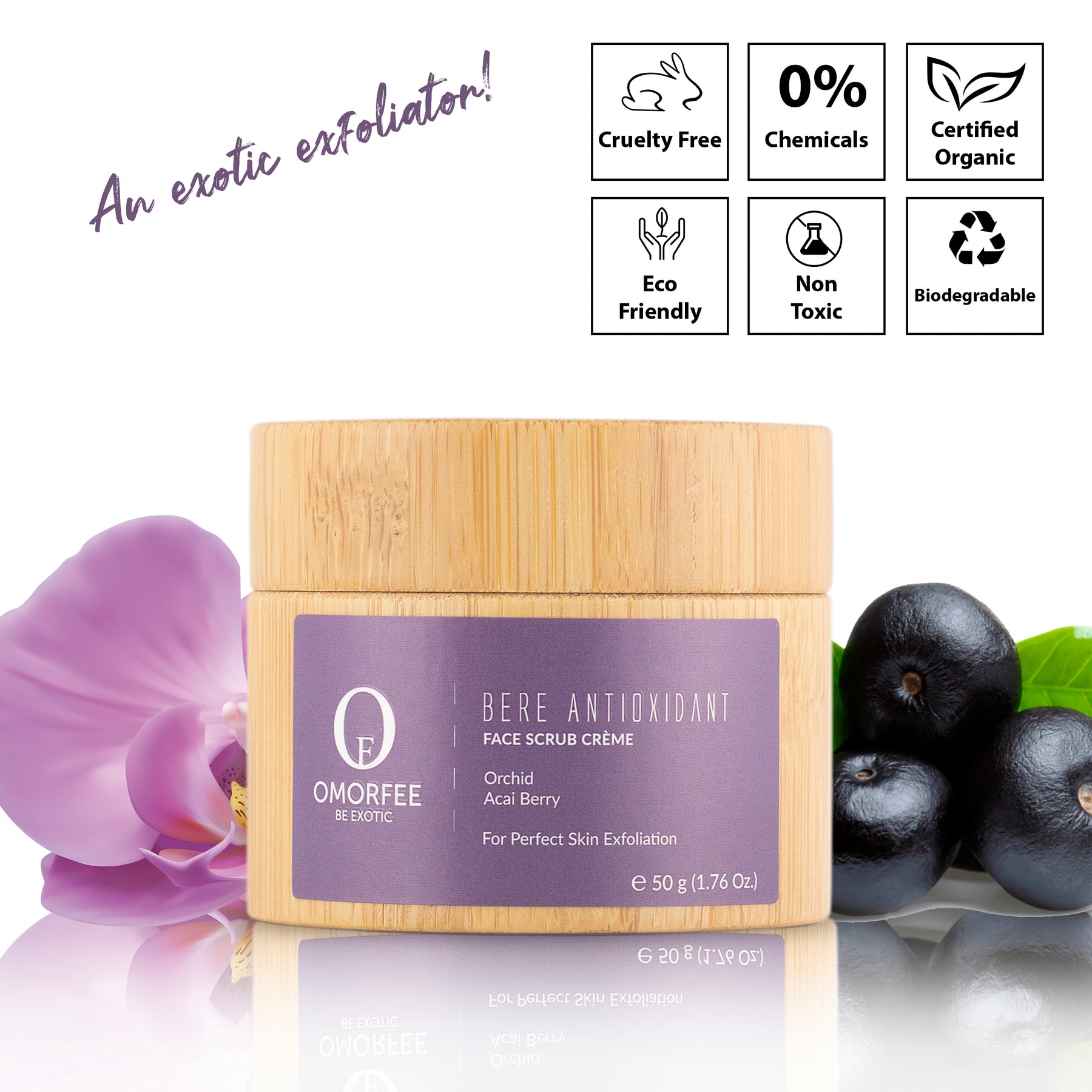 SCRUB THE POLLUTANTS AWAY AND GLOW
With the pandemic situation slowing down, a new normalcy is developing in India. The fear of Corona virus is reducing everyday as more and more people start coming out of their homes. However, it is extremely essential to take precautions and stay safe. Protecting your face with a mask while travelling helps you keep germs away. What we fail notice is that there are pollutants in the air that stick to our face making it dull and dry. While the mask covers a portion of the face, the risk of pollutants harming the face still exists. It is extremely important to follow a strict cleansing regime that will not only keep the face clean but also ensure the pollutants do not harm the face much.
At Omorfee, we try to find solutions to your skin problems. We aim at creating a world where everyone has healthy and beautiful skin. We want your skin to be able to fight off those pollution particles and remain radiant all day and year long. After extensive research, our members of the Research and Development team came up with a combination of ingredients which helps improving your skin, pulling off excess impurities that are embedded deep in our skin and making it bright and rejuvenated.
We have created a combination of Acai berry extracts, Turmeric oil, Wheat Germ oil and Orchid Essential oil called B`ere Antioxidant Face Scrub. The most unique thing about this face scrub is that it does has special beads derived from plant cellulose. This is to ensure that the scrub is gentle on your skin and does not cause any redness.
BENEFITS OF THE INGREDIENTS ON YOUR SKIN
Acai Berry: Found extensively in the Amazon forest, these are known as the 'super fruits' in Brazil. At Omorfee, we ensure these berries are grown on organic lands and are handpicked to be used in the creation of our face scrub. These berries are known to improve health and well- being as they are filled with nutrients and have low sugar content. They are loaded with antioxidants and help prevent free radicals damage the skin. This also makes it a popular choice in the cosmetic world for anti- aging products as it helps skin build cellulose and look firm. It also contains fatty acids which helps the skin look supple and hydrated.
Turmeric oil: Turmeric is one of the most common ingredients found in the Indian household. It is known to not only ward off skin problems, but the consumption of turmeric also helps cleanse the internal organs increasing immunity. Turmeric oil is known to reduce skin infections and inflammations. It helps cool the body down and helps get rid of the excess melanin off the skin. Turmeric oil is also known to reduce fine lines and slow aging process.
Wheat Germ oil: Wheat is yet another common Indian household ingredient. Mostly Indians use it to make flat bread, chapati etc. Experts suggest that the real nutrition is stored in the germ of the wheat grain. Germ oil is hence extracted to be used for variety of purposes. Germ oil is known to have antioxidants and is a great source of Vitamin E. It helps fight free radicals and makes the skin soft and supple. It helps remove excess sebum off the skin making it a popular choice amongst oily skin people and it helps deep cleanse the skin off impurities. Due to the presence of Vitamin E, germ oils help reduce blemishes, scars and heals irritated skin
Orchid Essential Oil: Orchids are beautiful colourful flowers grown majorly in Australia. They are the essence of love and hence are known to pamper the skin in their own unique way. At Omorfee, Orchid Essential Oils are steam distilled to release the purest and the highest quality of essential oil. Orchid essential oil is known for its deep hydration property. It is also known to heal damaged skin, increase skin youthfulness and make the skin radiant and glowing.
Plant Cellulose Beads: Plant cellulose is used to create these bio-degradable, soft beads that are finding more and more usage in the eco- friendly world. Omorfee's research team has spent months researching on this and developing the perfect bead size for our face scrubs. These beads are soft and act exactly as scrubbing agents. We prefer these over other granules for our scrubs because they treat your skin in the gentlest form giving better results and no visible redness or skin irritations.
B`ere Antioxidant Face Scrub has a beautiful Mauve shade showcasing its richness in antioxidants and the fragrance is subtle and flowery. With the growing level of stress and pollution, it is important to let your skin breathe by deep cleaning your face and neck twice a week. This scrub helps you improve your skin texture by adding the required antioxidants, vitamins and nutrients and ebbing away deep- seated impurities, dead skin and melanin.
Explore our range of Face scrubs here.